7/9/2017
Exercises in Cartooning: Week 5, Exercise 5.1 and Week 5 homework
for previous exercises, look at the blog archives
The great cartoonist Ivan Brunetti, also a teacher of comics/cartooning, has a book that publishes his course; it is a 10 week "class" that has a few exercises for each week, some of which I might even use in my own graphic novel class. I thought it'd be fun--especially since I'm a writer and need to challenge my skills as an artist--to run myself through his course and post each of my exercise on here. So without further ado...
Exercise 5.1
At the top left corner of your paper, draw a face--adding only a nose and eye, along with an eyebrow above that eye.
Draw the same picture to the right of this one; continue this to the end of the paper.
Then, beneath the row (at the left side of the paper) draw a different eyebrow for that face. To the right of this one, draw a new face with a new eyebrow. Continue this, every now and then duplicating the same drawing and eyebrow.
Create multiple rows for this (Brunetti had his whole page full but I only filled about 2/3 of the page).
In addition to practicing consistency, something other exercises have done, this exercise also shows how one small change can lead to a dynamic change in emotion. Take a look at how I changed emotion with just a different eyebrow!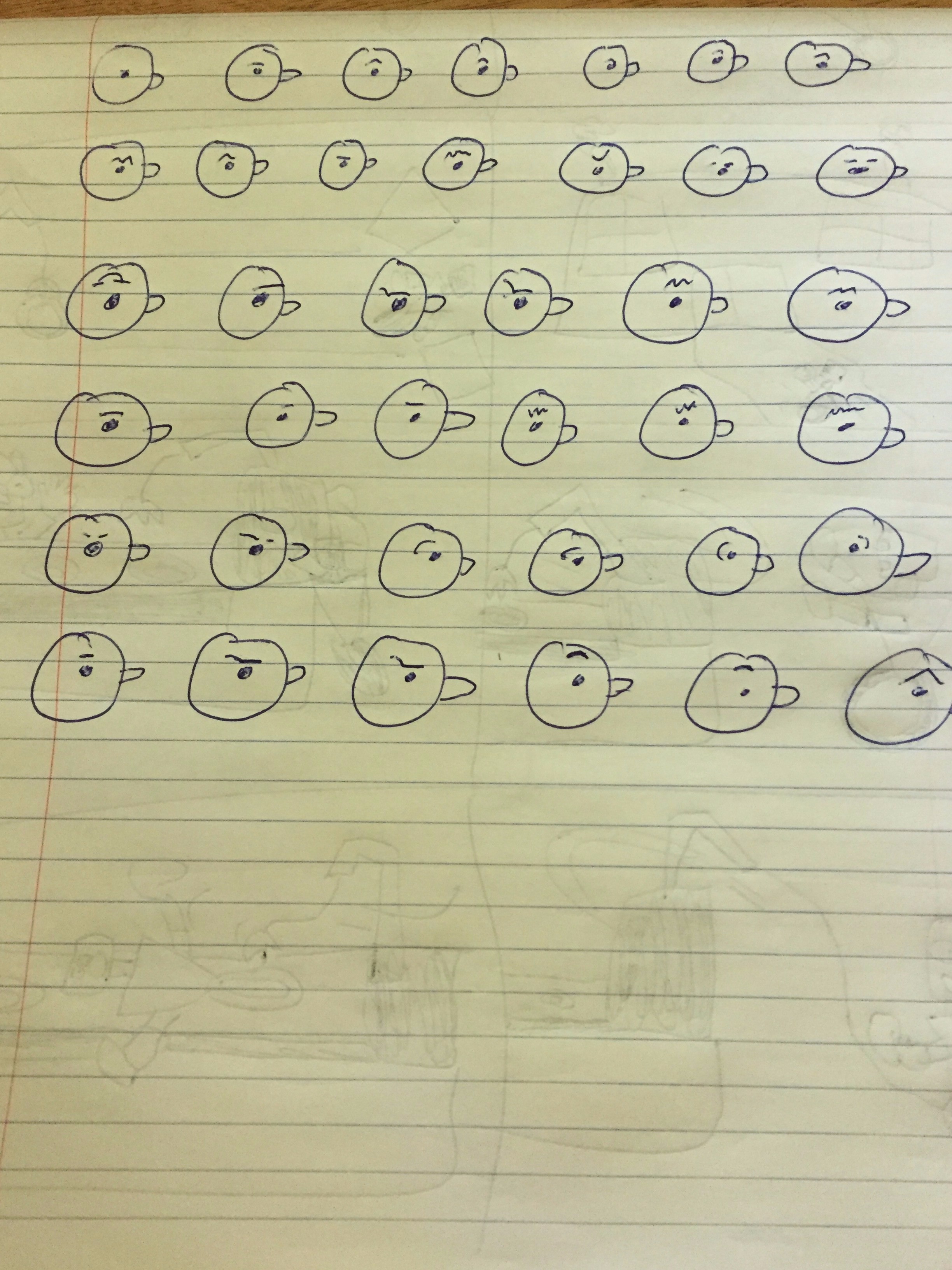 This week had a homework assignment (I don't know why he differentiates between homework and exercise). And to be honest, there have been other homework assignments I haven't done (as a teacher, that seems hypocritical, but this course isn't for a grade, just for my growth).
The assignment: create a 12, 16 or 24 panel strip, making each panel the same sized.
For the story, use your childhood as inspiration, either thinking of a place meaningful to you, a person meaningful to you, or a memorable event. You can add a caption for the title, but don't add any other captions; this caption should be handwritten, not type-set. My title is an homage to the Beach Boys song, and I also added a few images next to it to symbolize what the cartoon reveals about my interests and personality. Here's mine, using my bedroom (the geek's sanctuary) as the focus: